A self shooting observational documentary producer/director making engaging, thought-provoking films about real people, often filming over extended timeframes.
Emiment Monsters : Screenings
A Manual for Modern Torture
Duration

1 x 52'
1 x 89'
My Role

Filmed
Directed
Producer

John Archer
Prod Co

Hopscotch Films
Funded

BBC Scotland
Creative Scotland
World Premier

Glasgow Film Festival
March 2019
Year

2019
We are incredibly honoured that the UN Special Rapporteur has supported Eminent Monsters and is using it to try and drive change away from the coercive and corrosive practices graphically described within our documentary.
On 28th Feb UN Special Rapporteur Professor Nils Melzer announces his Report in the use of Psychological Torture's findings at the Human Rights Council.
On 14th Feb 2020 Professor Nils Melzer publishes his advance report on the use of Psychological Torture, citing Eminent Monsters which is an unbelievable honour.
In Feb 2020 Professor Nils Melzer and Reprieve Deputy Director Katie Taylor attend the London Premiere of Eminent Monsters at the Bertha DocHouse, the UK's only documentary cinema.
Prof. Nils Melzer, UN SP, attends the London Premiere at Bertha DocHouse, Feb 2020
In October 2019 Professor Nils Melzer launches a consultation period for the first ever United Nations report on Psychological Torture, with Eminent Monsters being a direct inspiration.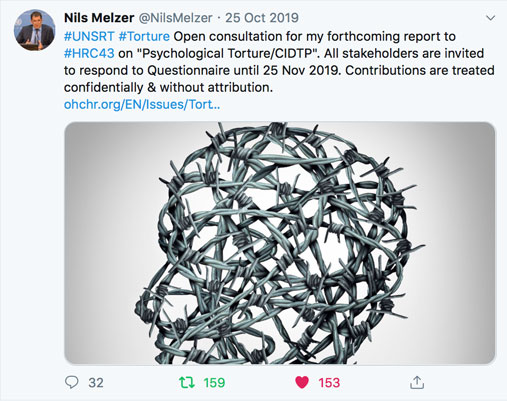 June 26th 2019
It was with enormous pride that Eminent Monsters was screened at the United Nations at the 41st Session of the Human Rights Council on 26th June 2019 in Geneva.
Hosted by Professor Nils Melzer, UN Special Rapporteur on Torture and Other Cruel, Inhuman or Degrading Treatment or Punishment, the Panel included:
Dr. Barbara Bernath, Secretary General, Association for the Prevention of Torture;
Dr. Asbjorn Rachlew, Superintendent Norwegian Police;
Dr. Pau Pérez-Sales, psychiatrist, Resource Centre in Mental Health and Human Rights, Head of the Complex Trauma Unit, Hospital La Paz, Madrid and
Katherine Taylor​, REPRIEVE'​s ​Deputy Director. She coordinates Reprieve's Life after Guantanamo Project, helping to facilitate the resettlement of ex-Guantanamo prisoners in Europe